Grenbole Ecole de Management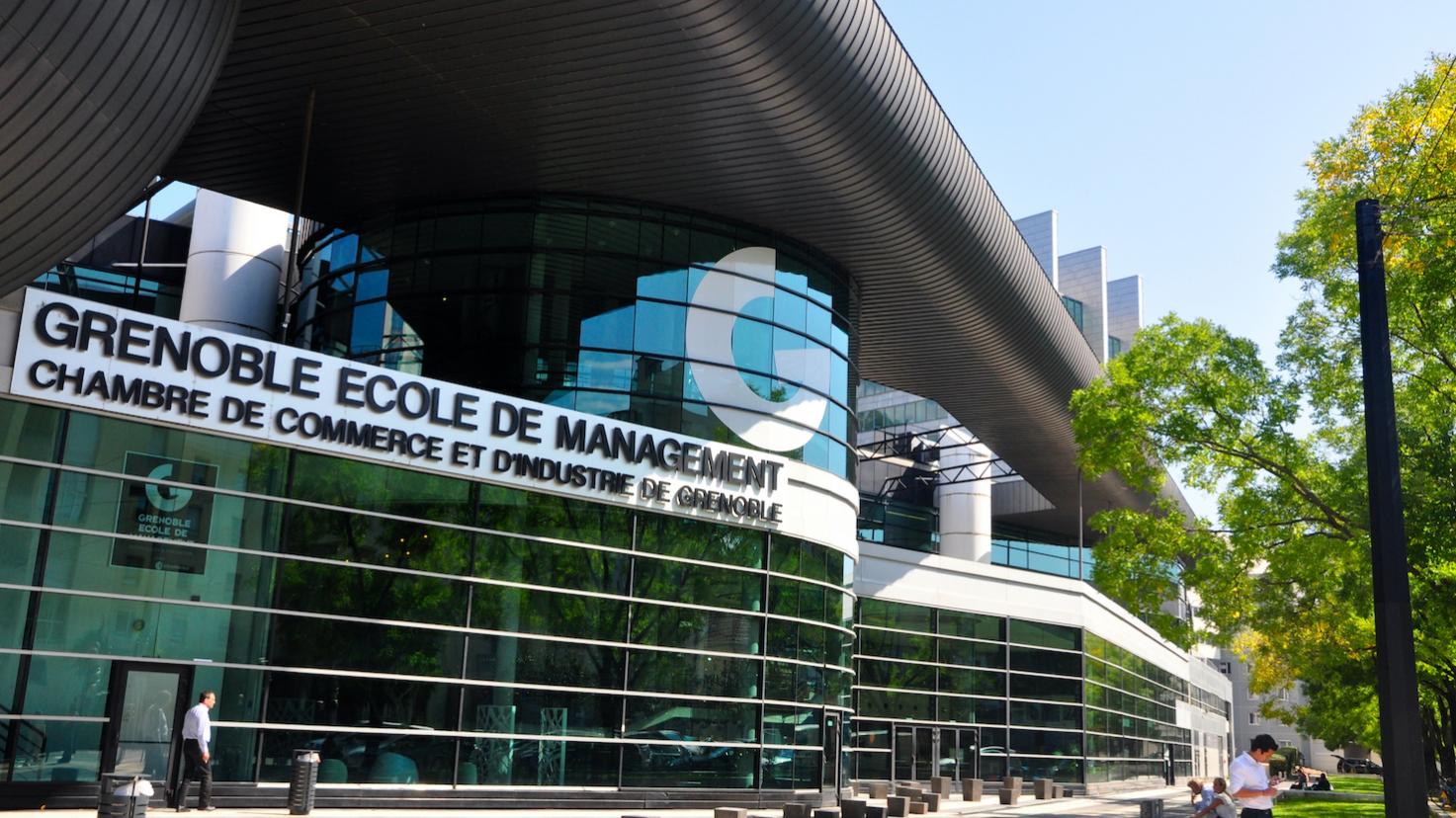 France
https://en.grenoble-em.com/
info@grenoble-em.com
12 rue Pierre Sémard 38000 Grenoble / 96, rue Didot - 75014 Paris
Grenoble Ecole de Management (GEM) has earned both national and international recognition. More than just a school, GEM represents an open-ended laboratory through which 8,000 students and 500 employees learn and work every day to solve complex problems and overcome major challenges for business and society.
Founded in Grenoble, a city of science and technology, our school has greatly developed its expertise in the management of technology and innovation—an expertise that is now the foundation of our brand's excellence and international renown.
By developing its own educational model, GEM has become a center for experimentation, study and creation. The school offers 50 educational programs in French and English that cover all levels of study from undergraduate to graduate, doctoral and continuing education. Students can take part in programs delivered in Grenoble, Paris, Berlin, Singapore, Moscow, Georgia, or Casablanca.
As an institution for higher education (EESC) affiliated with the Grenoble Chamber of Commerce and Industry, GEM is a founding member of the GIANT Innovation Campus in Grenoble. The school is accredited by AACSB, EQUIS and AMBA and member of the French "Conférence des Grandes Ecoles". Its programs are regularly ranked by major international economic newspapers and magazines.
FIELDS OF STUDY
Agriculture, Forestry, and Fishery
Architecture and Building
Economics & Statistical Sciences
Engineering and Engineering Trades
Journalism and Information
Manufacturing and Processing
Medicinal Chemistry & Pharmaceutical Technology
Medicine, Surgery, & Dentistry
Obstetrics, Nursery, Physiotherapy, & Medical Radiology
Social and Behavioral Science
Urban Planning & Land Management
Visual Design (Graphic Design)
Studying at Grenoble Ecole de Management is about more than just your degree. It's the chance to take part in an active student life and benefit from personalized support and mentoring. We do everything we can to ensure your time at GEM is a unique experience and a chance for you to do your best in an environment that is both responsible and fulfilling.
International Student Integration
The International Student Integration (ISI) Service provides general information about administative procedures to get settled in France.
The service provides interantional students with important information regarding:
administrative formalities to complete before and upon your arrival (immigration, housing search, insurance)
access to online information (guides, brochures, and tutorials)
access to the school housing platform
tips to avoid culture shock and how to deal with cross cultural communication
invitations to join social media groups
This information aims to advise and prepare for life and culture in France as well as all the administrative steps that must be taken before your departure, upon your arrival and during your stay in France.
Guide for International Students
To give you a general idea about what to expect in Grenoble or Paris, please download our guides for international students.
You will find detailed information about French administrative procedures such as housing, immigration and insurance and how to organize your new life in France.
Please read this information very carefully as it is your responsibility to make some arrangements before and upon your arrival in Grenoble. It will help you to understand the paperwork your need to deal with and to prepare your arrival:
Download our guides for international students.
Housing platform
The school provides a housing platform entirely dedicated to GEM students not only in Grenoble, but also everywhere in France and abroad.
The platform is edited by Studapart.
Key Figures
Institution
Grenoble Ecole de Management holds the triple crown of business accreditations that distinguish the world's leading business schools:
AACSB International (Association to Advance Collegiate Schools of Business),
EQUIS (European Quality Improvement System),
AMBA (Association of MBAs) for its MBA and MIB programs.
50 programs from the undergraduate to the doctoral level.
Faculty: core and adjunct teaching staff, including 260 full time professors and more than 447 guest lecturers.
500 employees
8 training locations across the world
8000 students
5600 campus-based students 
2400 distance-learning students 
Research
8 research teams
12 chairs and institutes
451 publications, 48 reports and 69 case studies over the past 5 years
210 doctoral students
2 doctoral programs
Business links
5000 Executive Education participants
35000 alumni
160 businesses partake in the School's recruitment forums
900 executives contribute as jury members for School's oral examinations
International scope
5 International Recruitment Offices (Europe, India, East Asia & South East Asia, North & South America, Middle East & Africa)
125 partner institutions (alliances, student and faculty exchanges, research...)
3300 international students
130 different nationalities
30% of graduates work outside of France
Grande Ecole Program
100 % of Grande Ecole students have an international experience
25 themed double-diplomas and certificates (law, eco, engineer, political sciences, design, literature...)
17 months on average spent in company during their schooling
85% of young graduates obtain a permanent contract
97% of graduates had acceped a job offer 4 months after graduation
77% choose a placement year
Focus on GIANT INNOVATION CAMPUS
8 academic and professional partnerships
40 companies on site
10000 students, 10 000 researchers, 5000 industrial jobs
9000 international visitors
7000 publications per year
Our Programs
UNDERGRADUATE PROGRAMS
Bachelor in International Business (BIB)  (Both in English & French)
POSTGRADUATE PROGRAMS
MSc Management in International Business (MIB) (in English)
MSc Fashion, Design and Luxury Management (in English)
MSc Finance  (in English)
MSc Marketing Management  (in English)
MSc Innovation, Strategy and Entrepreneurship  (in English)
MSc Business Development  (in English)
MSc International Human Resource Management and Organizational Development (in English)
Master of Business Administration (MBA)  (in English)
Grande Ecole Program (MIM)  (Both in English & French)
Accreditations
Grenoble Ecole de Management is one of the few business schools (1% of schools worldwide) to possess the three accreditations that distinguish the leading international business schools:
EQUIS (European Quality Improvement System),
AACSB (The Association to Advance Collegiate Schools of Business), 
and AMBA (The Association of MBAs)
These three accreditations are international recognitions of the quality of the organization, its programs and the degrees it delivers.
They provide an independent assessment of the quality of the School's organizational processes, ensuring that the content and quality of the programs delivered satisfy established international standards.
For students, accreditation …  
Ensures that the School's programs are constantly updated to follow the changes and meet the needs of the business world.
Attests that the School's programs are delivered by a qualified faculty.
Guarantees that the degrees delivered by the School are internationally recognized and meet international standards.
For the business world, accreditation…
Justifies the quality of the degree delivered by the School. It confirms that to recruit a graduate from the School is to recruit top talent.
Guarantees that the course of study followed by a graduate is adapted to the needs of today's complex business environment.
Demonstrates that the School's programs are current and reflect changes in knowledge and practices generally accepted in the management education community
For alumni, accreditation…
Affirms the value of the School's degrees at a time when the market risks saturation.
Represents a commitment of the program and the institution to quality and continuous improvement.