France - French Embassy and Campus France Manille
STUDY IN France - French Embassy and Campus France Manille
Étudier en France! 
Make France your study abroad destination
France is a country that welcomes students from around the world. More than its location at the crossroads of Europe and its unique art de vivre, discover why France is an ideal destination for Filipino students and researchers. 
Why study in France?
France is a country that welcomes students from around the world
Each year, over 300,000 international students choose to study in France. According to the UNESCO, it is the fourth-largest host country for international students worldwide and the leading non-English speaking destination for inbound student mobility. Located at the crossroads of Europe and renowned for its unique art de vivre, France is a global capital of fine arts, literature, gastronomy, fashion, and culture.
France is home to internationally-ranked schools and universities that teach in English 
For today's mobile and globalized Filipino youth, France is an ideal destination for studying abroad due to its rich culture and history, as well as the concentration of internationally-ranked institutions with English as the medium of instruction across various disciplines.
France is one of the world's most research-intensive nations and is is among the global top 10 in terms of scientific publications and researchers per capita. Its high-level scientific output is recognized worldwide, the country is home to numerous Fields Medal awardees and Nobel Prize laureates. English is a working language in many doctoral schools (especially in the natural and technological sciences) throughout the country
Additionally, public investments and subsidies (food, rent, transportation, health coverage/social security) allow a more reasonable cost of living for international students compared to other attractive destinations.
Each year, the Embassy of France to the Philippines launches a call for scholarships. The PhilFrance Scholarships program, since its launch in 2016, has sent over 40 Filipino students and researchers to pursue their studies in France.
The community of French-educated Filipinos continues to grow
It is estimated that over 200 Filipino students currently reside in France, with many of them pursuing degrees in world-renowned institutions of higher learning. Most Filipinos studying in France are part of undergraduate exchange programs between partner institutions or pursue graduate degrees in the fields of business, natural sciences and engineering, political science and law.
Additional online resources (available for download)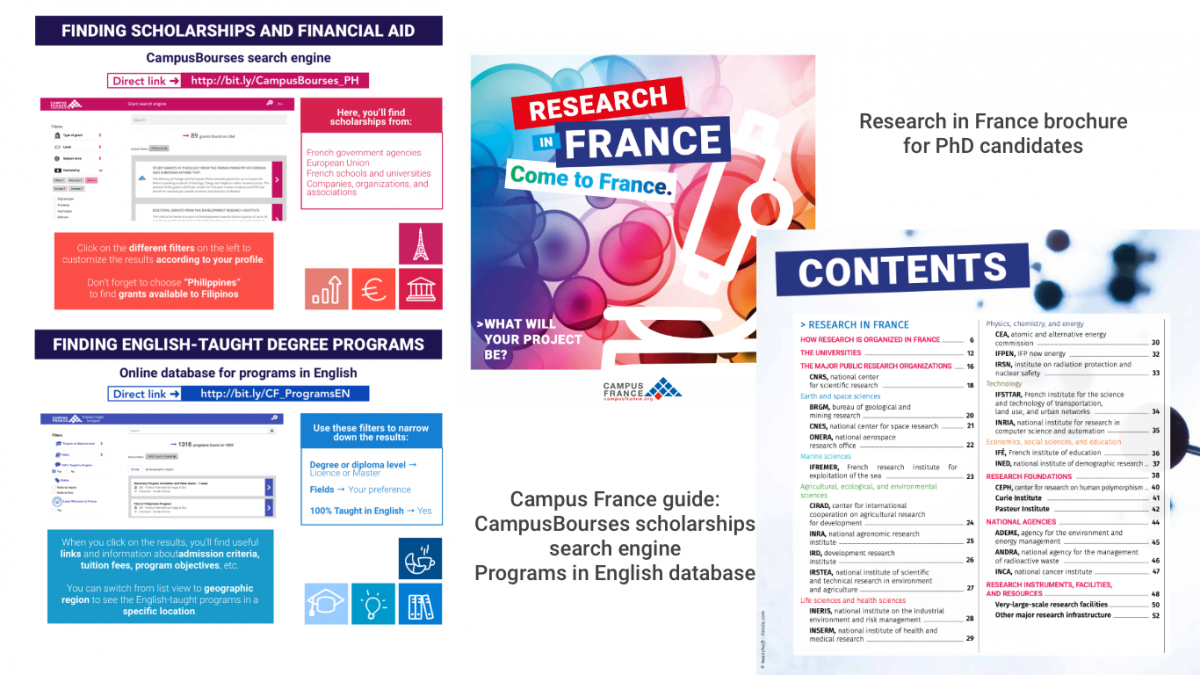 Campus France - Manila office
Campus France is a government agency tasked to promote French higher education abroad and to provide international students and researchers with the tools to learn more about French institutions of higher education and to help them find academic programs that fit their profile. In addition to our head office in Paris, Campus France has a network of local offices in different countries spread across five continents.
In the Philippines, the Campus France Manila office brings French education closer to the Filipino public and helps prospective students make a more informed decision about their academic plans through participation in education fairs, information sessions, and personalized consultations.
Additionally, we also provide assistance in finding scholarships and financial aid, orient students for life in France through pre-departure preparations, and facilitate alumni relations through the France Alumni network. 
Let us know how we can help you to study in France! 
Étudier en France country presentation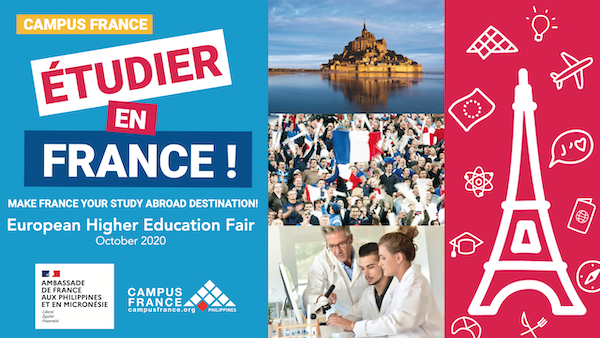 www.philippines.campusfrance.org
4/F Alliance Française de Manille, 209 Nicanor Garcia St. Bel Air 2, Makati City 1200, Metro Manila