One-stop information hub awaits Filipino students in the biggest Virtual European Higher Education Fair ever
The ultimate one-stop information hub awaits thousands of Filipino students in the biggest Virtual European Higher Education Fair ever.
The two-day fair will be inaugurated on 1 October at 1:30pm and streamed live at https://www.ehefphilippines.com and on the EU Delegation to the Philippines Facebook.
Information sessions about culture, cost of living conditions, tuition fees, and student visa requirements will be led by ambassadors and diplomats from the 13 EU member states' embassies and education services in Manila and in the region. Schedule is as follows:
Academicians and experts will present their course and programme offerings: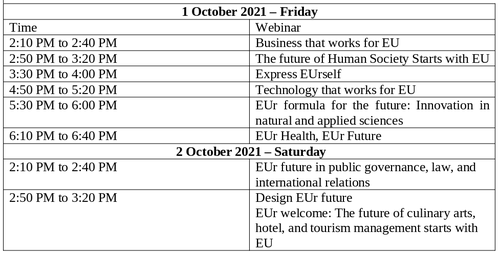 For university officials, the fair offers snippets of best practices in forging academic co-operation and partnerships under the Erasmus+ Capacity-Building Programme for Higher Education:
Regional partner institutions for this year include Wesleyan University (Luzon), Silliman University (Visayas), and Xavier University –Ateneo de Cagayan (Mindanao), which will host clustered presentations for students and other members of the academe. University partners for this year are the following: University of Sto. Tomas, University of the Cordilleras, Lyceum of the Philippines University - Batangas, Mabalacat City College, St Louis University, Rizal Technological University, Trinity University of Asia, Ateneo de Manila University, Visayas State University, Jose Rizal Memorial State University and Mindanao State University's (Marawi) College of Public Affairs.
The Fair is supported by Campus Erasmus and the Association of Christian Schools, Colleges and Universities. Media partners this year include: Business World Spark Up, Cebu Daily News, Gadgets Magazine, Inquirer Super, Panay News, Subselfie Online, Philippine Star, Manila Times, Adulting Millennials Podcast, The Philippine Business and News (thePhilBizNews.com) and SunStar Davao.
The Virtual EHEF 2021 is organized by the Delegation of the European Union to the Philippines, together with EU Member States' Embassies, education services and Institutes and in collaboration with the Commission on Higher Education.
If you're ready to Go Higher with EU, register for EHEF 2021 now at https://ehefphilippines.com/.